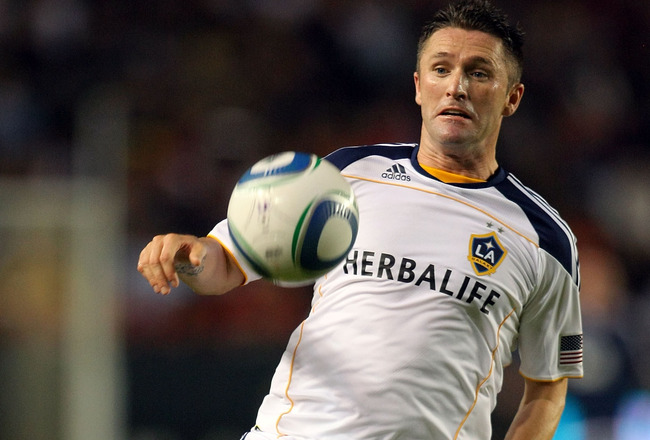 You know those blogs, the ones that give you three observations or five things we learned or the best XI thoughts. But sometimes that number isn't enough. Other times it's too many. So, here's an arbitrary number of thoughts from the 11th round of MLS:
A Distant Galaxy – For 11 games now, I've expected the Galaxy to put in the kind of performance worthy of the roster they've assembled. I wasn't quite as certain as other pundits that the Galaxy were shoo-ins for a repeat as MLS Cup Champions, but there's a reason it was conventional wisdom they'd do so.
A 1-0 loss to the revamped Chivas USA pins the Galaxy in sole possession of last place in the Western Conference, and not only are they losing games but they're doing show without showing even flashed of the greatness we thought them capable of.
But there's still that little bit of me that believes that this team is like the NBA's 2010-11 Miami Heat who signed free agents LeBron James and Chris Bosh in the previous offseason to join Dwayne Wade. They went 8-7 through their first 15 games, and, as the team under the microscope most frequently, took plenty of criticism and jabs about being just an average team. They ended up going 58-24 and winning the Eastern Conference before losing the NBA Finals to the Dallas Mavericks.
If the Galaxy have a similar transformation, a lot is going to have to come from players who aren't their stars. Three of their world class attackers (Landon Donovan, David Beckham and Robbie Keane) will miss games with their national teams. They'll also need much more strength in the back than they've shown so far.
Dynamo Draw – The Houston Dynamo equaled their mark for most goals scored this season in their 2-2 draw with the New England Revolution. The game was typical of what we've seen from the Dynamo this season.  The Dynamo's defense has been very good, but their offense seems to function best after they've conceded.
Part of the problem is their forward play or lack thereof. Will Bruin, a UCLA product drafted last season, seems like the team's only threat at times with veteran Brian Ching struggling both with finding the back of the net and going the full 90 consistently. Bruin might be finding his footing, scoring the first goal Saturday for his fifth tally of the season, but other than the 22-year-old it's up to midfielders like Brad Davis and Luiz Camargo to provide the scoring power in BBVA Compass Stadium. The Dynamo can potentially ride their defense to a playoff berth, but without any other offensive firepower it's hard to imagine them doing much more.
It's not that they haven't tried to remedy the issue. The Koke experiment would've been hailed as genius had it gone much (much) better. Last season, they brought in Carlos Costly. They traded for Macoumba Kandji before this season. But for whatever reason, strikers wearing orange just seem to be unable to produce.
Of course, they were dogged by the same issue last season and made it to MLS Cup. Maybe Dom Kinnear isn't losing any sleep over it.
Sparing You An Impact Pun – You're welcome. Anyway, the Montreal Impact's four-match unbeaten run was ended by the hottest team in the league, the New York Red Bulls. But there's plenty of reason for francophone MLS fans to be excité about their prospects. The Impact were hardly outmatched by the Red Bulls with the Canadian side looking like the better team for much of the match. Jesse Marsch and his staff have veterans Donovan Ricketts and Davy Arnaud playing in great form and the future seems bright for the MLS new kids.
Got Their Goats - I'd be remiss if I didn't mention Chivas USA got better with their moves last week. They haven't always been praised on the organizational level, but the addition of Juan Agudelo is a good one. Also, seeing Danny Califf was fit and able to hold things down at center back in front of goalkeeper Dan Kennedy (who is having a fantastic season) bodes very well for the club.
Final Thought – Um, hey, Sporting Kansas City? Might want to stop this whole not winning thing. You can't put up another poor performance, especially on national television against a San Jose Earthquakes team that looks to be one of the league's best.