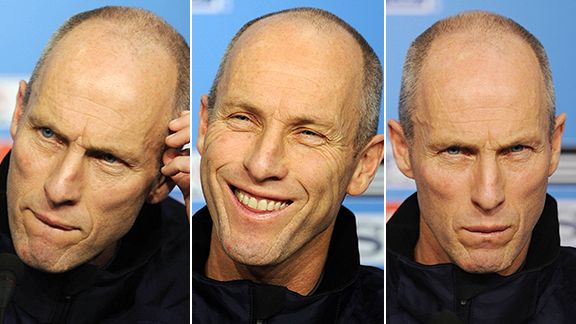 10Kit's Noah Davis and Brent Latham duke it out over Bob Bradley's continued tenure, and in the end find some common ground.
Brent: So Noah, I see, perhaps unsurprisingly, that you think it would be just dandy if Bob Bradley stuck around another four years. Let me first say, I have a lot of respect for Bradley which I didn't have three years ago. He's gotten better, learned on the job. That said, what are you smoking?
No wait, don't answer that. Let me tell you first why it's time for Coach Bradley to move on:
1. Four more years does not work at the top of international soccer. It's for countries like Sweden where any success is looked on pleasantly as an overachievement. We are not Sweden anymore.
2. The U.S. needs a new set of eyes. The player pool needs to be re-invigorated. Yes, the guys are comfortable in Bradley's system. Too comfortable. Change.
3. Tactics. As much as Bradley has improved, international soccer tactics continue to evolve. It seems like we're infinitely one step behind the game. As well as he's done, can you see Bradley switching effectively on the fly to a 4-2-3-1 from a 4-4-2, cause that's the type of thing it's gonna take to be successful over the next few years.
4. Bradley looked elsewhere, and couldn't find a better job. I wish him all the best, I really do. But that speaks volumes.
Look, I wish no ill will on Coach Bradley. He's done a superb job. But it's time for new blood – if for no other reason than to find out what we're not seeing in Bradley. Maybe he's the greatest American coach ever, but I'd like to see another tactician crash and burn for proof. Another mediocre cycle won't prove to me that I'm wrong. Now you tell me why I'm wrong.
Noah: Okay Brent, I'll bite.
First, I just want to point out that I've always said I think it would be better for everyone involved if Bradley took a job somewhere else. It looks, however, like he's going to stay. So allow me to continue to play Devil's Advocate and/or Bradley apologist.
A mediocre cycle? You call the past four years just okay? First in CONCACAF, first in the World Cup group, second in the Confederations Cup, a significant deepening of the talent pool. Maybe that's the problem: You expect too much. In that case, I ask you what are you smoking? Or perhaps more to the point, what do you think the players are smoking that will suddenly turn them into Brazil or Germany or even England? Bradley can only coach the guys he has. And, with all due respect, the level of talent simply isn't there. (And please, spare me the argument about this mystical reservoir of talent that the coach has overlooked. Point me to a couple guys who haven't been called in and then we can talk.)
As for tactics and fresh eyes, sure, I'm as sick of the 4-4-2 as you are, but I disagree with you that he couldn't or wouldn't institute a new formation on the fly. He spent the last four years preparing for South Africa and, given the talent that presented itself when the cycle began, the 4-4-2 was clearly the best option for the squad. That's over now. Clean slate. He's a student of the game, more so than almost any other coach. He understands tactical changes. If he thinks moving to a 4-2-3-1 will help him win and, here's the key, has the time to develop and train his charges in the system, he'll move to it. Just watch.
Brent: Maybe we're on a different wavelength about what American players are capable of. In the international game, all the coach really does is line the guys up and send them out. While the new guys do learn some things as they get integrated in (mostly to play 90 minutes both ways) there's little time to teach at the highest level.
Was the 4-4-2 the best formation this time around? Yes. But I'm not so sure going forward, and I just don't see Bradley making the changes necessary to assure that improvement occurs if its not. We know he's painfully slow to change.
And I for one don't see how in the world our top level talent – which plays in some of the best leagues around the world – isn't ready for top level tactics. I don't buy the argument that the American talent pool is so poor that our guys can't play and succeed in any system properly implemented. They can. They don't need to turn into Brazil or England, just Uruguay or Ghana – the optimal tactics for this team. Is that setting the sights too high?
And spare me the argument that this was anything but a mediocre cycle blessed by a few stellar, but somewhat fortunate, accomplishments. Don't forget the Gold Cup and Copa America fiascoes – brought on by questionable player selection (Jay Heaps?) and an all-too-common apathy towards defending the colors that showed up last week in New Jersey as well.
The player pool is deeper than ever, but how can you give the coach credit for that? What I'd be more inclined to blame him for is the failure to identify more young, promising players coming along. How many of the Gold Cup guys were involved, the very next year, in the World Cup training camp process? I would guess less than the number that weren't involved in the either the Confederations or Gold Cup. What does that say? And how many young guys are getting a look at the expense of trusted but not-quite-good enough veterans at any point?
Noah: Who are these young guys that aren't getting looks? This is the question I always ask and no one ever provides a good answer. Maybe a better way to put it: What player(s) would you have taken to South Africa that Bradley left home?Both the Copa America and Gold Cup "fiascos" were the second-most important international tournament of that year (to the 2007 Gold Cup and the 2009 Confederations Cup, respectively.)
Jay DeMerit, Benny Feilhaber, Herculez Gomez, Eddie Johnson, Charlie Davies, Jonathan Bornstein, Ricardo Clark, and Brad Guzan all gained valuable experience in Venezuela. The Americans made the finals of last year's Gold Cup with a roster that included Clarence Goodson, Davies, and Stuart Holden (who got his first cap in that tournament). The rest of the guys were the B-squad because the best team needed rest. That the Stars and Stripes made the final with that group is impressive. Who cares if they win? (As for the 4-4-2, if Jonathan Wilson claims its death is exaggerated, neither you nor I are ones to argue.)
Brent: I think we've gotten to the heart of matters here. I'm  not saying the 4-4-2 is not the best formation for the U.S.  But I do think with Bradley at the helm, we'll just never know.
The same is the case for the player pool. It's interesting that you have to go back to 2007 to mention when the young guys got vital experience. I actually think that B-team was all right, and a bit unlucky. But the Gold Cup last year was a strange mix of washed up veterans and journeymen plus a few already fringe players. Why? – When there are so many potentially talented young Yanks playing overseas and in MLS?
As far as naming those individual players (you have every right to ask), I admit this is a tough one – it's hard for me to remember who was in what form last summer, and I have no way to know what happened in each individual case, but since you've asked twice my answer would have to be: look at the player pool now, and compare it to the group on the field for that Gold Cup final. Were there not several better choices in terms of getting young guys experience, or winning the tournament, whichever was the primary goal? Or will you tell me that Logan Pause, Jay Heaps, Sam Cronin, Davy Arnaud and Santino Quaranta  were the best second-stringers we could field in such a big game? My suggestion then was to call in half the U-20 team as they prepared for Egypt. That would have been an undeniable bet on the future of the program. Not Jay Heaps.
But that's water under the bridge. The point is: we're debating questions that have no answers. If they did, two reasonable guys like you and I could never be in disagreement. The reason I would call for change after four years of Bradley is not as much because I don't think Bradley can get the job done. I think he can, now more than ever.
No, I'd call for change because without it, we'll never know if things could be different. With the same coach, we don't change a key variable that needs changing to answer the questions about U.S. soccer that need to be answered over the next four years. Specifically, how high can it go.
Bradley, as always, is the safe choice. The U.S. program does not need to be in safe mode. It has very little to lose (could bad coaching cause us to miss the next World Cup?), and just about everything to gain by taking a risk this time. Bradley is not that risk. He's a safe, but conservative bet. But I'll let you have the last word, since the safe choice is looking like the best bet, again.
Noah: Once again, I think we're actually much closer than we're willing to admit (at least for the debate format to work). I'm also disappointed that Bradley's coming back – assuming he does. I was ready for a change. I have the same criticisms of him that you and the rest of the soccer community has; I just weigh his accomplishments a bit more heavily than you do, I think.  (One point I will concede upon further reflection: Last year's Gold Cup roster was garbage. There's really no way around that fact.) I was ready to move on…
…but if the USSF doesn't, all is not lost. You agree with that position. The "safe" choice just happens to be the most successful coach in the history of the American program. Could the side miss out on a tactical revelation or insight about player development and/or positioning by retaining Bradley? Sure, it's possible, although in my mind it's much more that a new coach could fail horribly. (We weren't that far away from having to beat Uruguay to qualify for the World Cup.)
So yes, you're correct in saying we don't know what we are losing by keeping Bradley. But we do know what we are getting: a solid, if not spectacular coach who's proved he can build a team that's more than the sum of its parts and that can defeat the best side in the world on any given Tuesday.
Bradley isn't the best option. But a better choice didn't present itself, so I say four more years.
As always, it's been a pleasure.